| HOME | | FISHING | | HUNTING | | WILDLIFE VIEWING | | LODGING / ABOUT US |


ABOUT US - RATES - LODGING - TRANSPORTATION

My family and staff welcome you to South Kodiak Adventures. My name is Gary Rozelle, Sr., and I am a lifelong resident of Kodiak Island. I was raised in the Village of Akhiok and have spent most of my life living there. Our family operation is assisted by equally knowledgable local Alaskans who have many years experience in the outdoors. I was brought up in an outdoors environment of hunting, hiking, and sport fishing along with other wilderness activities. As I was growing up my favorite things were deer hunting, duck hunting, sport fishing and just being outdoors. I have over 35 years of experience fishing all the lakes, rivers and bays on the South end of Kodiak Island where our operation is located and feel that I know this area better than anyone else. I also hold a Coast Guard 100 ton license.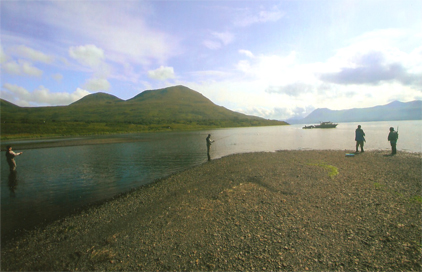 The South end of Kodiak Island has over 100 miles of protected waters, 15 salmon rivers
and 2 large lakes plus many small ones. We are fortunate in having one of the few KODIAK NATIONAL WILDLIFE REFUGE permits
for bear viewing and wildlife viewing and sportfishing on the National Wildlife Refuge lands. Our 33 ft. Peregrine Marine all
aluminum boat is the perfect platform for us to share with you a great Kodiak Island adventure.
This state of the art, sport fishing vessel is a fast, comfortable and very safe method to explore the Island.
The vessel offers: GPS chart/plotter radar for foggy weather, color depth sounder, survival suits, life jackets US Coast Guard approved,inflatable raft , small outboard, twin 225 four stroke Yamaha's and private toilet.
PACKAGES

Payment Terms: A 50% deposit is required at the time of the booking. If you need to cancel for any reason, a refund of your deposit will only be returned when the dates you originally scheduled are filled by another group or individual. Balance of payment due 60 days before your arrival.

** Package prices are listed with each standard package and are based on a minimum group size of 2 or more persons.

STANDARD PACKAGES
1.) Guided Fishing – 6 days, 5 nights Price: $4,900.00 per person
5 days, 4 nights Price: $ 4,600.00 per person
4 days, 3 nights Price: $ 3,900.00 per person
2.) Guided Bear/Wildlife Viewing – 7 days, 6 nights Price: $3,000.00 per person
3.) Unguided Deer & Duck Hunting Combo –7 full days, 6 nights Price: $4,000.00 per person
4.) Different lengths of stay can be arranged; and, discounts are offered for children - please call for rates.
All Fishing & Wildlife Viewing Packages Include:
Lodging, hot showers, and all meals; Guide and Boat; bait, hip boots and raingear, rod & reel (however we cannot provide
flyfishing rods & reels). Not included is fishing licenses & tags which should be purchased in Anchorage or the city of Kodiak;

Guaranteed : 8 hours+ guided fishing or wildlife viewing per day
(excepting day of arrival/ departure as time permits)

Fish processing, vacuum packing, freezing and boxing in airline approved boxes.

LODGING
It is our desire to cater to small groups or families with a maximum of 6 guests at a time. Our comfortable lodge quarters offers
all the normal amenities of a remote lodge, including satelite TV, phone, washer dryer with deluxe family style meals served by our staff.
Our fishing and wildlife viewing packages are not structured, but rather are customized on a daily basis as to what your desires are for that particular day. Our SEASON runs from May 15th through December 12th of each year.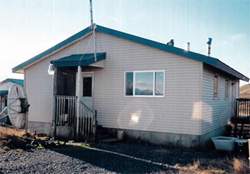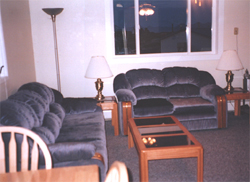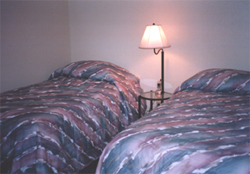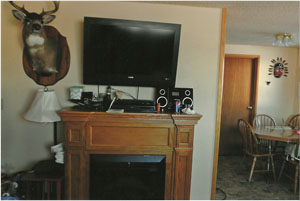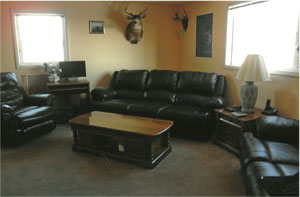 TRANSPORTATION

The Alaska Marine Highway connects the island to Homer, Seward and Aleutian chain communities. The Island enjoys daily commercial jet service into the City of Kodiak on the Northern part of the Island, with commuter planes arriving in the Village of Akhiok on a daily basis. Getting to Kodiak is really quite simple. You only have two options: By plane or by boat. Either way that you choose it is best to be sure and plan well in advance since there are limited flights and ferry trips. Alaskan Airlines (800-252-7522) is our major air carrier onto the island but there are regional airlines which offer different flight schedules for the short flight from Anchorage on the mainland.
Once you arrive in the city of Kodiak on the North part of the Island, several local air carriers fly to our remote village of Akhiok. Arrangements for your flight to Akhiok can be made beforehand with Island Air Service at 1-800- 478-6196 or Pak Look Air at 907-487-4400. Please note that we cannot be responsible for delays or expenses due to weather.

Travel to and from Kodiak Island and the Village of Akhiok is not included in our prices. We will however be happy to help you make these arrangements to minimize the cost.
For more information,
or to make a reservation, please contact us at:
SOUTH KODIAK ADVENTURES
ATTN: GARY ROZELLE
PO Box 5033
Akhiok, AK 99615

Telephone : 907-727-6331
or 907-836-2846

Fax: 907-836-2847

EMAIL : garyrozelle@icloud.com
(Note: Internet email service to Kodiak Island is sometimes unavailable.
Accordingly, it is best to contact us by telephone if possible.)