FULLY GUIDED
HALIBUT, SALMON, TROUT & STEELHEAD FISHING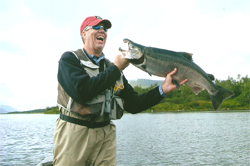 South Kodiak Adventures would be happy to provide you and your party a once in a lifetime fishing trip on the Island of Kodiak, Alaska. Our base of operations is located in the very small village of Akhiok, on the most remote part of the Island, the Southern tip. The South end of Kodiak Island has over 100 miles of protected waters, 15 salmon rivers and 2 large lakes plus many small ones. We are fortunate in having one of the few KODIAK NATIONAL WILDLIFE REFUGE land use permits for sportfishing on the National Wildlife Refuge lands.
We provide lodging and meals in Akhiok with daily guided fishing aboard our 33 foot aluminum cabin cruiser. Halibut fishing is done from the boat in the salt water, while other fishing for steelhead, rainbows, and silver and red salmon is done from shore along the many rivers coming into the bays of Kodiak Island. All of our trips are customized to suit the small number of people ( only 6 ) which we take at any one time. Accordingly, our fishing trips can be combined with any of the wildlife viewing tours which we offer at the same price. Dungeness and Tanner crab pots can be put out if you get a sport fishing license.
As an option, you can start out your week fishing for halibut in one of the local bays, then switch to stream fishing for sockeye salmon and rainbow trout the next day, followed by whatever your heart chooses.
Fishing Season
Our fishing season starts May 15th of each year and runs into September.
Although our standard fishing trip is 7 days and 7 nights, other lengths can be arranged depending on scheduling. Just give us a call. We fish the Southern part of Kodiak including Olga Bay and Deadman's Bay. Available species include halibut, king salmon, sockeye salmon, silver salmon, chum salmon, humpy salmon, rainbow trout, dolly varden, and steelhead.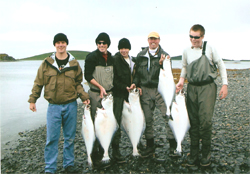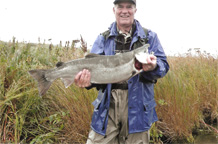 Fishing Season Dates
King (Chinook) Salmon : May 15 - July 15th
Sockeye (Red) Salmon : June 1 - September 15th
Coho (Silver) Salmon : August - September 15th
Chum (Dog) Salmon : July - September
Humpy (Pink) Salmon : July - September (even years)
Steelhead, Rainbows & Dolly Varden : July - September
Halibut : May 15 - September 15th

The silver salmon or coho is thought by many to be the most outstanding fighter of the salmon species, although sockeyes or reds are a close second. These super-charged silver salmon explode out of the water and make reel-screaming runs up and down the stream. When caught in salt water they often strip all the line on the spool. We have access to dozens of silver and red salmon streams, bays and coves. Depending upon conditions, we fish from our boat, stream banks, gravel bars, or even wading in salt water. We access these hot spots in our 33 ft cabin cruiser that get us to secluded sites quickly and safely. We often fish wilderness sites without human competition. The best silver fishing is in August and September but we often catch silvers and kings by trolling in salt water in June and July. Sockeyes or reds come into our streams all Summer long and into September. We cater to both fly fishermen and spin fishermen with references
available upon request.
Our rates for a fully guided Kodiak fishing adventure, including lodging
and all meals, are:

6 days, 5 nights Price: $ 4,900.00 per person
5 days, 4 nights Price: $ 4,600.00 per person
4 days, 3 nights Price: $ 3,900.00 per person

Licenses and tags should be purchased in either Anchorage or the City of Kodiak
prior to your arrival in Akhiok.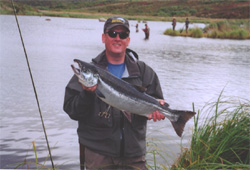 For more information
CONTACT US AT:

SOUTH KODIAK ADVENTURES
ATTN: GARY ROZELLE
PO Box 5033
Akhiok, AK 99615

Telephone : 907-727-6331
or 907-836-2846

Fax: 907-836-2847

EMAIL : garyrozelle@icloud.com
(Note: Internet email service to Kodiak Island is sometimes unavailable.
Accordingly, it is best to contact us by telephone if possible.)