South Kodiak Adventures would be happy to provide you and
your party a once in a lifetime hunting trip on the Island of Kodiak,
Alaska. Alaska is properly known as perhaps the best hunting destination in the world and our base of operations is located in
the small village of Akhiok, on the most remote part of Kodiak Island,
the Southern tip. Please see the map of Kodiak Island for our location in Akhiok.
We provide lodging and meals in Akhiok with daily transporter service for unguided deer and other hunts using our fast 33 foot aluminum cabin cruiser from which you can be dropped off at a wide variety of places.
South Kodiak Adventures can arrange either single specie or combination hunts that you can dream about for a lifetime. Duck and Goose hunting is always an added bonus. Licenses and tags can be purchased in either Anchorage or the City of Kodiak. Combination hunts for deer and ducks are only done in the Fall.
Most hunts also offer the opportunity for incidental salmon or steelhead fishing as well as the previously stated fantastic duck hunting. In fact, rumor has it that hunting for Emperor Geese may once again open up.
DEER HUNTING, OUR SPECIALTY !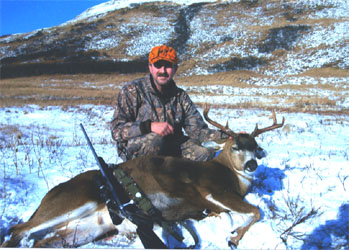 Our operating season is scheduled to begin on the 1st Saturday in September, with hunts starting each Saturday thereafter through December 12th. Hunts begin in the village of Akhiok on the Southerrn tip of Kodiak Island on Saturday mornings with your flight arriving from Anchorage, via City of Kodiak. After storing your gear at our lodging facilities in Akhiok, we'll take you for a familiarization tour of some of the hunt area aboard our 33 foot high speed and licensed vessel, the "Alaska Adventure". This boat can cruise at 30+ knots, is equipped with 110v power, stereo, state of the art electronics, diesel furnace, and many other features added to make your hunt more enjoyable. Real hunting begins the next morning.
The area offers a wide variety of hunting options from beach hunting to hiking into mountain saddles to stand hunting with a rifle or a bow (or hand gun). The island supports over 100,000 deer and having lived in the Village our entire lives, we know where to find them. Days start off with a hearty breakfast, then boat transportation to that day's chosen location. Hunters are usually dropped off in pairs with each pair given a hand held radio for safety or early pick up. We pack a hearty lunch for each hunter to take with him each day. After pick up by the boat at the end of the day, our hunters can look forward to a hot dinner back in Akhiok that may include New York Steak, marinated pork tenderloin, Baked Ham, and of course, Venison and Salmon!
The early weeks of the season offer silver and sockeye salmon fishing. Duck hunting begins October 8 with many species of unique ducks available. Ptarmigan are also abundant on the island. Whatever your desire is, our staff is dedicated to providing our guests with a hunting adventure tailored to each individual's expectations and goals. Our staff's combined expertise and years of experience help to ensure you an Alaskan experience not to be forgotten. Many of our guests return year after year to experience our truly unique hunt once again. You can package Deer meat and capes in wax "airline" boxes ($10/each) which we have available for transportation home at the end of the hunt.
RATES: Seven (7) day, 6 night, deer and duck hunts - $4,000 pp. Longer or shorter hunts can be specially arranged. License and tags are available. In Kodiak city non-resident hunting license is $85, tags are $150 each. At this time, each hunter is allowed 3 deer tags. Other costs not included are airfare to Akhiok, duck stamps, land use permit costs if necessary.